The longshot mentality is comfortable as ever.
T-Shirts
Relive pivotal moments in Namath history, signature designs printed across high-quality garments.
Long-sleeves
Show off your pride in the Namath brand, with a soft-style garment commemorating a certified football icon.
Hoodies
Sport a snug or loose-fitting Namath sweatshirt, vintage colors printed across high-quality threads.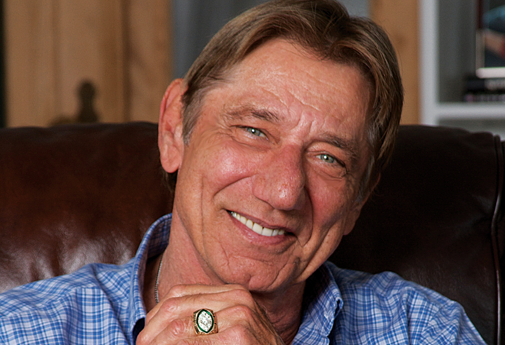 Under the Lights
Even before his Hall of Fame career reached its conclusion in 1977, Namath found a second home on the screen. Removed from his on-field performances, Namath found a way to captivate home audiences with the same regularity. Frequent television and talk show appearances, together with headlining movie roles, kept Namath in a well-deserved spotlight.
A place in the spotlight
A season removed from his first Super Bowl appearance, Broadway Joe hosted The Joe Namath Show – a conversational segment that saw Namath delve into the lives of athletes and entertainers – alongside American sportswriter Dick Schaap. Though the 13-installment broadcast lasted only a single season, it provided the foundation for Namath' subsequent television appearances. A casual smile and observational demeanor made the Beaver Falls native a natural on the screen, and the world took notice.
When the NFL mandated that athletes appear unshaven, Namath negotiated a groundbreaking deal with razor provider Schick, to shave his token Fu Manchu in one of television's first massive endorsement deals.
In 1974, you could discover for only $1.69 what a 31-year-old Namath already knew: Beautymist pantyhose can make any leg look amazing. "If Beautymist can make my legs look good, imagine what they'll do for yours" he delivered, though for once, no one was focusing on his smile. Noxema shaving cream, Brut Cologne and Ovaltine flavoring also benefited from his endorsements.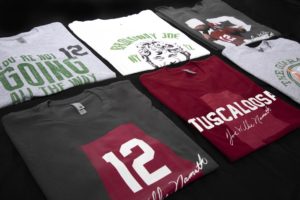 Joe Namath fan Shop
For the Underdog in you.
The quickest distance between fans and officially licensed Joe Namath merchandise is the Joe Namath Fan Shop, founded in 2017. High-quality designs capture the playing days of Broadway Joe, the primetime AFL talent who earned his place in the end zone and American hearts.
Browse a varied portfolio of official merchandise found exclusively at the Joe Namath Fan Shop, products that testify to the gunslinger's larger-than-life persona. Whether you knew him in Alabama crimson or New York green, consider this your invitation to put Namath's underdog reputation work for you. Record-breaking exploits deserve world-class recognition: welcome to the Joe Namath Fan Shop, a fitting tribute for one of the game's greats.